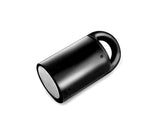 (1) Pack MagnetPAL-Most Powerful Magnet Ever Made Heavy-Duty Neodymium Anti-Rust Magnet, Best for Magnetic Stud Finder / Key Organizer / Indoor and Outdoor Multi Uses
MAGNET KEY CHAIN HOLDER – Ships with a key ring and works as a magnetic key holder for your car or key chain. Never lose your keys. Put a MagnetPAL on your key ring to attach to the faceplate of your light switch for easy access. Hide a spare key under your car or anywhere you may need it. Use two MagnetPALs for a quick release keychain on your belt loop, in your purse, or even on a lanyard.

A FIX-IT MAN'S BEST FRIEND – Every toolbox needs a MagnetPAL. Attach bits, screws, nails, bolts and other hardware to a drill, hammer, wrench or tool belt to free your hands to safely work. MagnetPAL is a magnetic stud finder and nail finder, finding screws in wooden wall studs. Our strong plastic housing makes MagnetPAL durable enough for the rigors of your workshop.

ENDLESS APPLICATIONS – MagnetPAL is much more than a magnetic stud finder and magnet key chain holder. Place one or two on your fishing line to pick up metal items in the harbor, pond, or pool. Put one on your flashlight so you can find it in the dark on fuse boxes. Instantly display and switch out artwork or signs at home, school, or work. Retrieve lost items from hard-to-reach places.

PERMANENT & CONVENIENT – The permanent magnet. Never rusts, fails, or falls off. Whether wet or dry, hot or cold, it still works, providing dependable convenience when you need it. Hold tools on your ladder – no more traveling up and down to get new tools or risking tools falling from the ladder. Keep your tools on your waist. You don't need a bulky and restricting tool belt for the hand tools you use most.